A big shout out to Old Navy. Not only is it the home of the $2 tank top but now the everlasting baby shirt.  I'm pretty sure this size 6-12 mo. shirt was purchased last May on a trip to Florida to visit my mom.  This picture was taken a month after that in Houston.  So, I'll calculate for you…Wade was 4 months old here.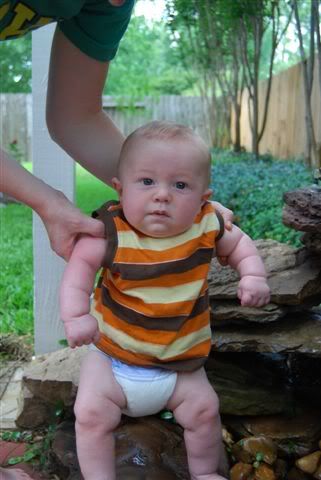 Here again, colors slightly more dull from washing, we see Wade last October in Florida at an age of 8 months. 
And this is not a joke, I took this picture today.  It is the same exact shirt.  Wade is 17 months old.  Obviously it's been well loved as the orange is pretty faded. 
He's actually got 3- a gray one, blue stripes and this one.  They all still fit.  Thanks Old Navy!!
In other random news, Wade experience his first fort today.