So, this week Wade has discovered a new form of entertainment! I want to thank all of you who have spent your hard earned money on toys and such for the Wadester. But it appears they are unnecessary. His lips bring hours of enjoyment!!
In other news, Wade has been strengthening his neck and arms by huge leaps and bounds. We've got him a membership to the Y and his personal trainer is really working him hard. Actually the truth is, he's been sleeping on his tummy. For the first 2 months I was not so disciplined about tummy time- mostly because Wade hated it so I didn't force the issue. Well, about 3 or 4 weeks ago I started putting him on his belly for naps. Then last week at my mom's I tried him on his belly for the whole night. He did great and has been a stomach sleeper ever since. Now tummy time is actually enjoyable. He can hold his head and chest up with his arms.
I think we're going to start rice cereal today. For those of you without babies of your own, I don't mean Rice Crispies...snap, crackle, pop. Rice cereal is the doctor reccommended introduction to food for babies. I'm sure we'll have some entertaining pics to come.
Also, we are in the process of saying bye-bye to the pacifier. Dr. Wiley said it's totally fine to keep him on it until one year. But I've just gotten so tired of what we refer to as "pacifier duty". Basically when we would put him to bed we'd give him the paci. Then he'd lose it so the one "on duty" would have to go up and replace the paci. This would sometimes go on for up to 20 minutes. He's found his fingers just fine (see slide show of Florida pics) and I don't mind if he ends up sucking his thumb. So far the separation is going great. Last night he woke up in the middle of the night crying and wouldn't settle down by just patting his back (and I was kinda lethargic) so I broke down and gave it to him. Aside from that we haven't given it to him much at all! Woohoo!
I hesitate to mention this next bit because it's not a total done deal yet. But I think I can share without getting too overly excited. Thursday we put an offer on a house! Our offer was accepted and now we just await the inspection next week. Pending all goes smoothly with that, we'll close on the 26th. Here's a little photo for you. I'll tell you more about it in detail once the deal goes down.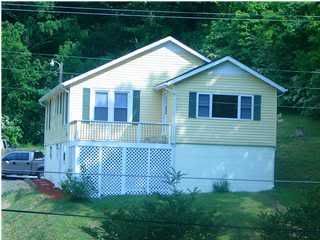 Well, we are off to go swimming at the Y today. Wade got a taste of the swimming pool at my mom's but it was too chilly to really enjoy it. There's a warm water indoor pool at our Y so we're going to start his Olympic training!